Mengetahui sekarang sudah memasuki bulan ramadahan, ternyata marah – marah atau pun makan bukanlah satu – satunya hal yang dapat membatalkan puasa. Ternyata jika kamu memainkan ke 5 game ini, selain pahala kamu berkurang atau menambah dosa, 5 Game Android ini juga bisa Bikin Auto Batal Puasa.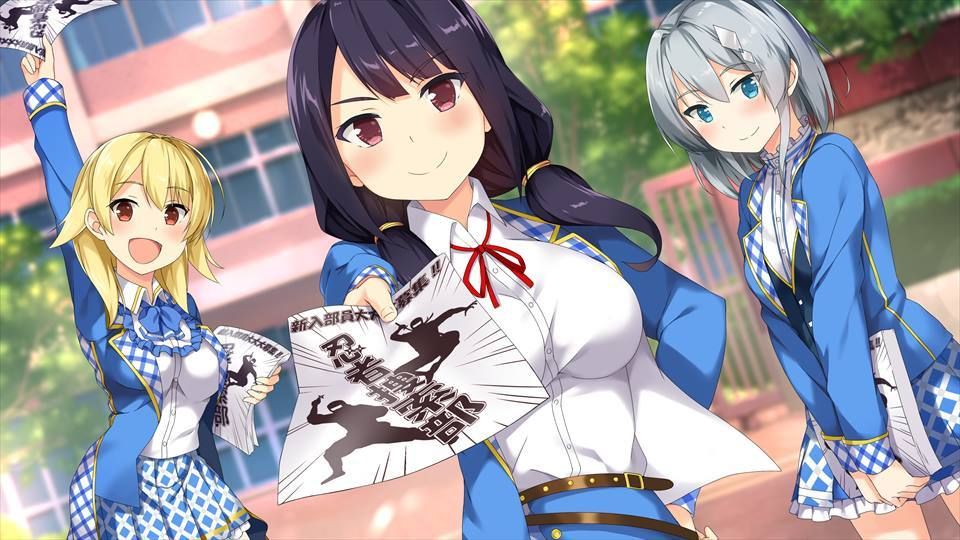 1. Epic Mecha Girls
Adalah sebuah permainan anime berbasis RPG Turn Based dengan para karakter Mecha atau juga bisa di sebut Robot Tempur yang dekendalikan oleh para waifu yang intinya memang harus masuk di list ini sih. Pada game ini kamu akan bertarung dengan musuh di arena pada 3 Vs 3, jadi kamu bisa menggunakan 3 Mecha dengan waifunya melawan musuh di berbagai mode. Mode yang tersedia seperti PVP yang merupan pertarungan arena dengan seluruh player di dunia, Atau mengikuti challange yang akan terjadi di setiap events nya.
Genre : RPG Turn Based
Size : 146MB
Requires Android : 5.1 and up
Publisher : Viva Games Studios
2. Fake Novel: Your Own Tsundere
Game yang mungkin bisa dibilang merupakan permainan dengan ukuran sangat kecil dari pada 5 daftar permainan lainnya. Khusus untuk kamu yang lagi sendiri game ini akan menemanin kalian sepanjang waktu dengan hadirnya pacar virtual simolator. Tapi tidak sesederhana itu, keperibadian dari pacar virtual kamu bernama Tsundere ini sangatlah membagongkan, jadi tindakan apapun yang kamu lakukan, itu sangat berisiko tinggi. Pada game Fake Novel: Your Own Tsundere ini kamu juga akan diberikan berbagai macam mini games yang menarik seperti, main teka – teki ataupun gunting batu kertas. Jadi apa yang membuat game ini tidak boleh dimainkan saat puasa, ya kalian coba dandanin si cewe dan colek aja.
Genre : Dating Simulator
Size : Varies with device
Requires Android : Varies with device
Publisher : Sugoi Studio
Download Juga : 2 Game Story of Season di Android
3. Kiss Kiss: Spin the Bottle
Bagian ketiga ini sepertinya tidak perlu aku jelasin lagi tentang bagaimana bisa membatalkan puasa jika dimainkan, karena sudah terlihat dari icon game nya sendiri. Kiss Kiss: Spin the Bottle merupakan permainan action tapi menurutku sendiri ini lebih ke genre interactive story. Pada awal game kamu akan mengikuti sebuah tantangan bermain Truth or Dare bersama teman dan kekasih kamu, dengan cara seperti pada judul yaitu memutar botol. Selanjutnya kamu akan mengikuti kisah asmara dan petualangan si karakter utama sebut saja jajang ini untuk menemukan kekasih barunya. Seperti kebanyakan game interactive story, kamu akan memilih dari beberapa opsi untuk mengembakan cerita, opsi kamu pilih akan berdampak kedalam cerita tersebut. Di  balut dengan grafis 3D apakah kamu langsung ingin coba?
Genre : Action
Size : 75MB+
Requires Android : 4.4 and up
Publisher : PLAYNETA LIMITED
4. Moe! Ninja Girls/Sexy School
Lebih parah dari sebelumnya, tidak perlu di tanyakan lagi dari mana bisa Bikin Auto Batal Puasa ?. Game tertulis sexy ini merupakan permainan interactive story dengan jalan cerita bercabang, maksudnya adalah kamu bisa mendapatkan berbagai macam ending nantinya. Kamuadalah seorang ninja jenius yang menyembunyikan identitas asli dan pindah ke Sekolah Mizaki saat bunga sakura bermekaran. Dikelilingi oleh siswi yang lucu, kamu akhirnya mendapatkan kehidupan yang damai. Bagaimana tidak damai, soalnya di sekolah tersebut hanya kamu sendiri prianya, wah isekai sekali. Berbagai waifu yang bisa kamu dekatin seperti Akari Hano, Enju Saion-ji, Ricka Machiyuki dan lebih dari 100 kostum yang bisa kamu gunakan terhadap mereka. Tertulis sendiri pada playstore jika kamu Suka game hentai, ecchi, harem, waifu, tsundere, dan pertempuran cewek download sekarang juga.
Genre : Action
Size : 37MB
Requires Android : 5.0 and up
Publisher : NTT Solmare Corp.
5. 7 Sexy Sins
Bagian penutup akan di isi dengan game berbayar tapi bisa dibilang cukup terjangkau. 7 Sexy Sins merupakan permainan dosa, karena sesuai dengan namanya juga makanya masuk list ini, genre nya sih emang sederhana seperti pada game biasa aja sih, gameplay nya juga lebih permainan arcade dan aksi akan tetapi background nya ituloh sangat memanjakan mata. Dalam game ini, kamu akan berperan sebagai seorang bidadari yang merupakan pemilik photobook gadis-gadis seksi. Pencarian kamu adalah untuk mencari "The Demons of the Seven Sins". Melawan gerombolan musuh dan menghindari peluru mematikan untuk mencapai target kamu. Memang seserhana itu game nya, kaya game jadul Space Impact pada Nokia, tapi nilai sepesial nya itu pada bacgkround yang disuguhkan.
Genre : Action
Size : 102MB
Requires Android : 5.0 and up
Publisher :Zai Studio