Assassin's Creed Rebellion : Mungkin kamu tidak asing lagi dengan judul dari game ini , merupakan franchise game dari seri game ternama yang telah di rilis oleh Ubisoft pada perangkat konsul , akhirnya muncul pada perangkat mobile dengan gameplay unik dan berbeda. Pada game Assassin's Creed Rebellion ( Mod ) kamu akan langsung mendapatkan semua karakter , seperti Ezio , Aguilar , Shao jun , dan setiap karakter di seri Assassin sebelumnya.
Game ini mendapatkan rating 4.4/5 di Playstore :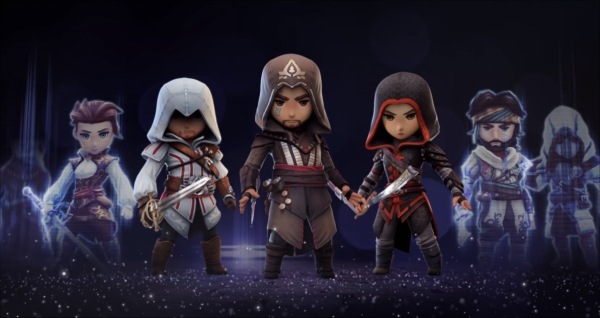 Deskripsi :
      Assassin's Creed Rebellion : Bergabunglah bersama  Ezio, Aguilar, Shao Jun dan Assassin legendaris lainnya dalam petualangan baru di genggaman tangan! Bangun Persaudaraan kamu dengan karakter – karakter unik dan infiltrasi benteng Templar. Di bangun secara eksklusif untuk perangkat handphone , versi baru dari seri ternama ini membuat kita bernolstagia kembali dengan para karakter dalam bentuk yang lebih lucu ( chibi ). Kumpulkan setiap assassin dalam Brotherhood untuk bersatu dalam penindasan yang terjadi di Kerajaan Spanyol.
Game Assassin's Creed Rebellion ( Mod ) mempunyai banyak fitur , diantaranya :
Terdapat lebih dari 60 pahlawan untuk bergabung di dalam Brotherhood yang termasuk dari para assassin original pada seri – seri sebelumnya dan karakter – karakter baru ekslusif untuk seri game ini.
Kamu dapat menyesuakian item – item hingga meningkatkan level pada setiap karakter dengan role berbeda – beda atau cara bertarung yang berbeda beda .
Kembangkan benteng Brotherhood kamu.
Buatlah ruangan baru semisal untuk membuka item terbaru atau ingin mengembangkan kekuatan para assassin.
Kirim karakter pada pencarian rahasia di seluruh spanyol dan kerjaan lainnya.
dab masih banyak fitur yang bisa kamu coba di dalam game ini.
---
INFOINFO MOD
Nama Game : Assassin's Creed Rebellion

Harga Playstore

:

 –

Status :

 MOD
Platfrom : Android
Genre Game : RPG , Action , Strategy
Publisher: 

Ubisoft Entertainment

Release Date: 2017
Ukuran Game : 439MB ( RAR )
Mode : Solo ( OFFLINE / ONLINE )
GOD Mode ( Tidak bisa mati ).
---
---
Download Gratis Assassin's Creed Rebellion  ANDROID
Playstore Link :
Coba juga : Game Assassin Lainnya  
LINK DOWNLOAD :
Whats New
Minimal OS
Support Gamepad?
Odin bersama kita! Rekrut Eivor dan jadilah hero Viking legendaris di update terbaru dari Assassin's Creed Rebellion.
Mainkan Acara Helix Rift yang semuanya baru! Perjalanan ke Norwegia dan hadapi perampok kejam Kjotve the Cruel di THE RAVENS 'WOUND!
Rekrut kedua Eivor dari Assassin's Creed Valhalla ke Rebellion Brotherhood!
Tempa dua kapak Legendaris baru untuk menjatuhkan musuh Anda – Wurmsbreath dan Shieldbreaker!
Android 4.3
Tidak Support
Related posts