Castle Cats : Bagi kalian penyuka kucing , sepertinya akan menyukai game ini dengan karakter kucing yang sangat banyak dan mempunyai kekuatan nya masing – masing.
Game ini mendapatkan rating 4.8/5 di playstore.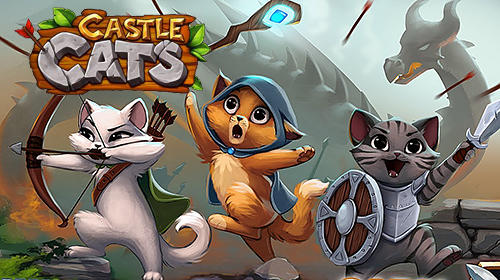 Deskripsi :
      Castle Cats : Mengelola serikat kamu sendiri dengan prajurit kucing di Castle Cats !Membantu Conan Knight, Catniss Archer dan Francis Mage mengakhiri pemerintahan The Evil Pugomancer untuk selamanya.
Fitur Game :
Merekrut lebih dari 60 kucing-pahlawan yang unik! Masing-masing dengan keterampilan dan sifat-sifat mereka sendiri!
Mengirim rekrutan mu pada pencarian heroik untuk memulihkan Catania!
Gunakan Alchemy untuk kerajinan yang paling unik dari kucing ke serikat Kamu!
Upgrade dan Evolve kucing-pahlawan mu.
Flying cat, adalah kcucing terbaik yang harus kamu tangkap.
The Evil Pugomancer tidak akan menyerah tanpa perlawanan! Bergabung dipertempuran atau hanya ingin berdiam saja – itu semua terserah kamu!
Berpartisipasi dalam Acara Bulanan denganpahlawan baru dan tambahan Cerita Quests!
---
INFOINFO MOD
Nama Game : Castle Cats

Versi : 2.6.0
Status : MOD
Platfrom : Android
Genre Game : Arcade , Adventure ,
Publisher:  Pocapp Games
Release Date: 2017
Ukuran Game : 92 MB ( ZIP )
Mode : Solo  ( OFFLINE )
---
---
Download Gratis Castle Cats ANDROID :
Playstore Link :
LINK DOWNLOAD :
Whats NewMinimal OSSupport Gamepad?
Kejahatan semakin dekat … Sesuatu yang jahat berkeliaran dalam kegelapan. Cari tahu apa yang ada di HALLOWEEN EVENT kami!
– Buru monster tak dikenal bersama Kai, Edward dan Selene di Event Story Quests!
– Rekrut Pahlawan Halloween baru dan lama selama acara berlangsung.
– Lakukan trik-atau-perawatan dengan semua Pakaian Halloween yang tersedia untuk pemimpin serikatmu!
Android 4.2+
Tidak Support