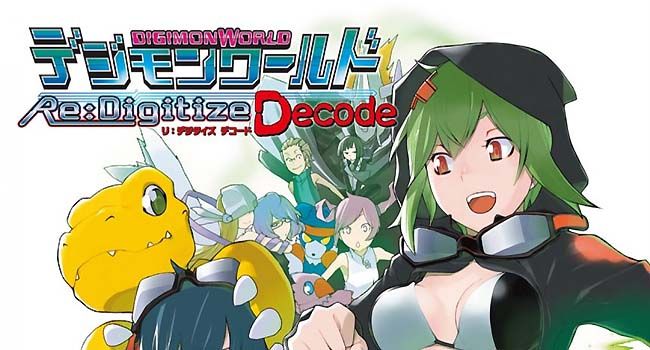 Deskripsi :
Digimon World Re:Digtize Decode 3DS : Adalah permainan yang dirlis oleh Namco Bandai pada 27 Juni 2013 untuk 3ds dan merupakan versi terbaru dari Digimon World Re:Digitize pada PSP. Karena bentuk kehidupan buatan "Vitium" berjalan dengan liar, Dunia Digital menjadi tidak stabil. Untuk memulihkannya, Komputer Host Dunia Digital, Yggdrasill dihidupkan, telah disegel selama emulasi Gunung Infinity. Untuk tujuan ini, ia mulai menyebarkan X-Program untuk memaksa pemusnahan makhluk asing dari Dunia Digital.
Gameplaynya sebanding dengan Digimon World 1 (1999) di PSX dan PSP Release Digimon World Re: Digitize 2012. Sementara gameplay inti pada dasarnya tetap sama, ada berbagai perubahan. Dibandingkan dengan rilis sebelumnya dari Digimon World: Redigitize di PSP, Decode menambahkan berbagai peningkatan Quality of Life. Untuk pertama kalinya dalam gim dunia, gim ini menyimpan Jurnal setiap Evolusi yang dialami Digimon kamu, termasuk Bobot, Statistik, dan yang lainnya. Fitur ini membuat kamu tahu persis bagaimana kamu mendapatkan Digimon ini. Permainan juga memberikan petunjuk untuk evolusi.
---
INFO
Nama Game :  Digimon World Re:Digtize Decode
Status : Normal
Platfrom : Nintendo 3DS , Android ,  PC
Emulator : Citra Emulator
Genre Game :  Adventgure, RPG, Simulation
Publisher: Namco Bandai
Release Date: 2013
Ukuran Game : 600MB ( RAR )
Mode : Single-player
Offline
---
---
Download Gratis Digimon World Re:Digtize Decode Android
Beli gamenya di Amazon : Digimon World Re:Digtize Decode
Coba juga : Resident Evil: The Mercenaries 3D ( 3DS ) 
LINK DOWNLOAD :
LINK DOWNLOAD TUTORIAL PEMASANGAN INFO TEST
CARA PASANG GAME 3DS di PC ( SOON )
Handphone ( Xiaomi MI 8 ) + CItra Emulator.