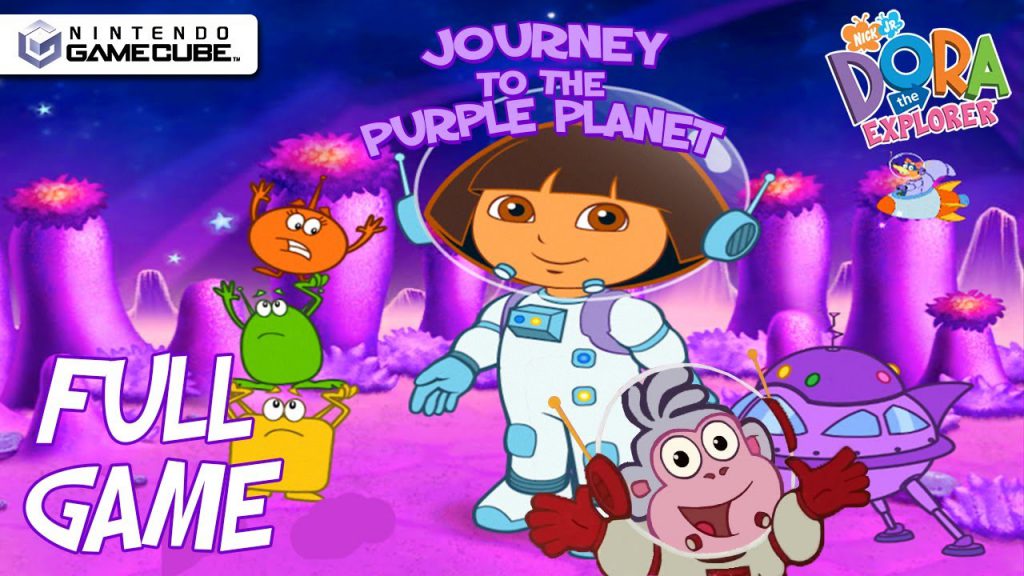 Deskripsi :
Dora the Explorer: Journey to the Purple Planet GAMECUBE : Ketika Dora dan Boots melihat ke luar angkasa, sebuah piring terbang berisi lima alien (Flinky, Inky, Plinky, Dinky, dan Al) dari planet ungu, mendarat di Bumi. Namun, piring itu berantakan dan Dora dan Boots harus membawa alien kembali ke Planet Ungu. Isa memiliki kapal roket yang bisa dipinjam Dora dan Boots, yang terletak di atas gunung yang tinggi. Untuk sampai di sana, Dora dan Boots pertama-tama harus menyeberangi Sungai Penyu, lalu melewati Icky Sticky Sand, lalu berayun di atas Danau Buaya dan akhirnya mendaki ke puncak gunung yang tinggi.
Pemain mengontrol Dora the Explorer, diikuti oleh Boots. Saat permainan dimainkan, pemain mengumpulkan permata sehingga kapal roket Isa dapat terbang ke tempat permata tersembunyi dalam harta karun. Kemudian dalam permainan, permata juga disembunyikan di log. Jika pemain mengumpulkan 10 permata atau lebih, kapal roket Isa akan terbang. Pemain juga melompat pada jamur dan batu loncatan untuk melompat lebih tinggi.
Sebelum pemain menyeberangi Turtle River, Dora dan Boots harus menemukan keempat kura-kura. Saat menyeberangi Turtle River, pemain harus melompat ke atas semua kura-kura pada waktu yang tepat untuk menyeberangi sungai. Kemudian dalam permainan, pemain tidak bisa mendarat di Icky Sticky Sand. Jika tidak, Dora akan terjebak di pasir. Pemain kemudian harus mengeluarkan Dinky dari pasir dengan menekan Tombol A. Di Danau Buaya, pemain harus mengayunkan tanaman merambat dengan menekan tombol aksi untuk melewati danau. Ketika pemain sampai ke gunung yang tinggi, pemain kemudian memasukkan permata ke dalam roket dan diluncurkan ke luar angkasa, dan pemain harus mendapatkan semua kunci dari semua planet yang berbeda untuk sampai ke planet ungu untuk menyelesaikan permainan.