Prince of Persia : Bila kamu pikir kebanyakan judul game masa kini terlalu mudah, tunggu sampai kamu memainkan Prince of Persia versi terbaru atau Prince of Persia: Prodigy. Petualangan sang pangeran yang biasanya sangat sukar dan menantang dibuat kelewat mudah. Kita tidak akan mungkin dihampiri kematian saat kita memainkan sang pangeran. Terima kasih pada Elika, rekan perjalanan sang pangeran kali ini yang membuat segalanya menjadi terlalu mudah.
Deskripsi :
           Prince of Persia : Sistem pertempuran mengabungkan gerakan akrobatik yang indah namun sangat mudah untuk dilakukan. Kita cukup menekan tombol secara berurutan untuk mengeluarkan serangan kombinasi antara sang pangeran dan Elika. Setiap musuh memiliki posisi bertarung yang sering berubah serta memiliki kelemahan terhadap salah satu tipe serangan pangeran. Kelemahan tersebut ditandai dengan bercahayanya Elika atau salah satu senjata milik pangeran yang menjadi kelemahan posisi tersebut. Tombol Y/segitiga untuk serangan sihir Elika. X/kotak, untuk serangan pedang sang pangeran. B/Lingkaran, untuk serangan melempar yang memakai sarung tangan besi miliki pangeran dan A/X untuk gerakan akrobatik.
Dari beberapa sisi, Prince of Persia akan mengingatkan kamu pada gaya permaninan Prince of Persia episode Sands of Time, yang entah mengapa dihilangkan pada kedua sekuelnya. Pahlawan kita kali ini walaupun disinggung sebagai pangeran pada bagian cerita tetapi penampilannya malah lebih mirip perompak padang pasir. Sedangkan tuan puteri Elika terlihat selayaknya tuan puteri yang cantik dan rupawan tanpa harus mempertontonkan keseksian yang berlebihan. Sepanjang permainan kita akan lebih banyak mengorek masa lalu Elika dibandingkan sang pangeran. Bersama-sama mereka akan mengembalikan Ahriman ke dalam penjara sekali lagi. Mungkin ada yang bertanya, siapa itu Ahriman? Seperti cerita 1001 malam yang penuh mistis, sang pangeran kali ini harus berhadapan dengan seorang dewa kegelapan yang bernama Ahriman. Ahriman dipenjarakan oleh Ormaz sang dewa cahaya selama ribuan tahun di wilayah yang dihuni oleh Elika. Tugas sang pangeran adalah memenjarakan Ahriman sekali lagi dengan cara menghilangkan kegelapan yang meracuni seluruh arena menggunakan sihir Ormaz yang dimiliki oleh Elika.
Source Description : KotakGame
---
Info : 
Nama Game : Prince of Persia
Steam : ( Rp.115.000)
Platfrom :PC
Genre Game :  Adventure, Action,
Publisher:  Ubisoft
Release Date: 2 December 2008
Ukuran Game : 8.7 GB (RAR)
Mode : Single Player
Offline
---
Screenshoot :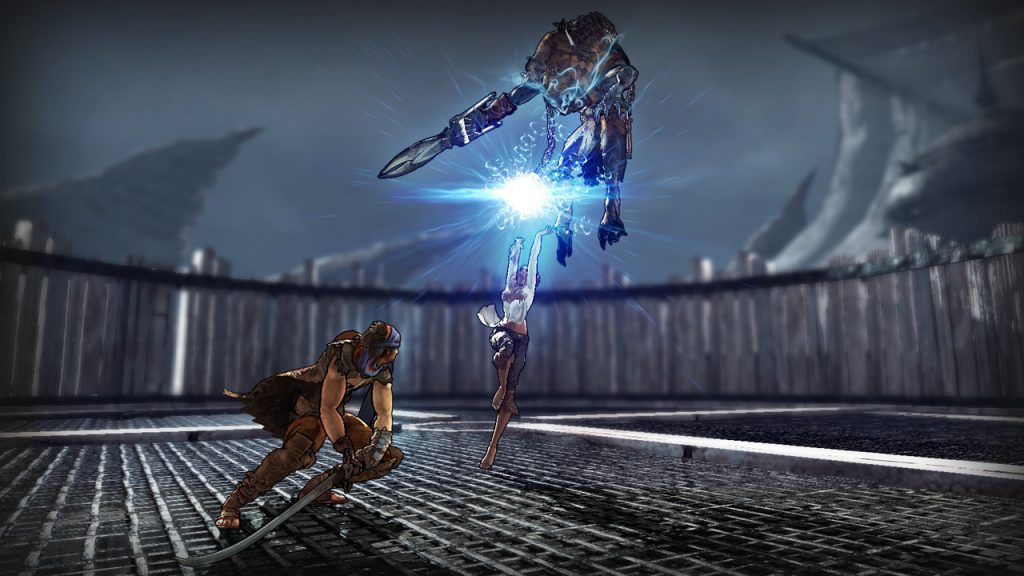 ---
Spesifikasi Yang Dibutuhkan :
Recommended:
• OS: Windows® XP/Windows Vista® (only)
• Processor: Dual core processor 2.6 GHz Intel® Pentium® D or AMD Athlon™ 64 X2 3800+ (Intel Core® 2 Duo 2.2 GHz or AMD Athlon 64 X2 4400+ or better recommended)
• Memory: 1 GB Windows XP/2 GB Windows Vista
• Graphics: 256 MB DirectX® 10.0–compliant video card or DirectX 9.0–compliant card with Shader Model 3.0 or higher (see supported list)*
• DirectX Version: DirectX 9.0 or 10.0 libraries
• Hard Drive: 9 GB
• Sound Card: DirectX 9.0 or 10.0–compliant sound card (5.1 sound card recommended)
• Input: Windows-compliant keyboard, mouse, optional controller (Xbox 360® Controller for Windows recommended)
---
Download Gratis Prince of Persia ( PC )
STEAM Link : Prince of Persia
Coba juga : Prince of Persia: The Forgotten Sands [+Cheat] PPSSPP 
LINK DOWNLOAD :
CARA PEMASANGAN :
Ekstrak file download menggunakan Winrar.
Buka / Mount rPrince of Persia McDevilStar
Jalankan Ssetup_prince_of_persia_1.0_v2_(28572) , Selanjtunya pilih dimana meletakkan Folder nya.
Pindahkan Semua File ( Berada di folder CODEX ), Ke tempat instalasi folder tadi.
Play & Enjoy.
Tutorial Lengkap Cara Download di WWW.MCDEVILSTAR.COM
---
Video Gameplay