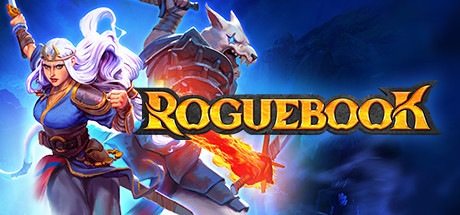 Deskripsi :
Roguebook Deluxe Edition PC : Rangkullah tantangan pembuat dek roguelike dengan mekanik unik dari pengembang Faeria dan Richard Garfield, pencipta Magic: The Gathering™. Bangun tim yang terdiri dari dua pahlawan, lepaskan kombo yang kuat, dan kalahkan legenda Roguebook!
kamu terjebak dalam Kitab Pengetahuan Faeria, dan setiap halaman mewakili tantangan baru. Pimpin dua pahlawan kamu menuju kemenangan dalam pembuat geladak roguelike yang dikembangkan dalam kemitraan dengan Richard Garfield, pencipta Magic: The Gathering™. Kumpulkan sinergi terbaik antara kartu, relik, dan kemampuan, dan hadapi Roguebook.
PAHLAWAN LEGENDARIS
6 pasangan pahlawan – Pilih 2 pahlawan untuk memulai permainan. Setiap pahlawan memiliki koleksi lebih dari 50 kartu, peninggalan pribadi, dan pohon keterampilan yang unik.
Maksimalkan sinergi – Pahlawan di depan melindungi pahlawan di belakang. Ganti posisi pahlawan kamu dan gabungkan kekuatan mereka untuk melepaskan kombo yang kuat.
Pertarungan strategis – Antisipasi dengan terampil dan antre tindakan kamu untuk mengalahkan lebih dari 40 bos dan musuh.