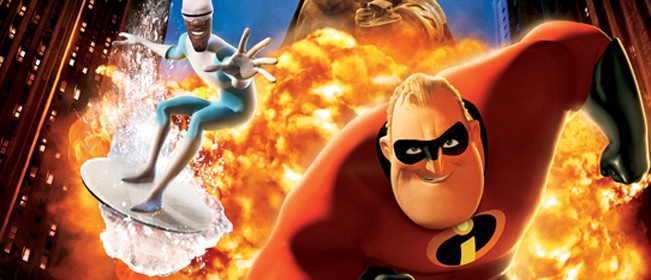 Deskripsi :
The Incredibles: Rise of the Underminer Gamecube : Adalah video game aksi-petualangan tahun 2005 yang berfungsi sebagai sekuel alternatif dari film animasi The Incredibles (2004) serta video game terkaitnya. Menampilkan Mr. Incredible dan Frozone melawan The Underminer's legiun antek robot. Gim ini menampilkan penampilan cameo oleh Incredibles lainnya, meskipun mereka bukan karakter yang dapat dimainkan dan tidak berbicara dalam permainan juga.
Permainan mengambil langsung di mana film berakhir, saat The Underminer berlatih keluar dari tanah dan menyatakan niatnya untuk menguasai dunia. The Incredibles bersiap untuk melawannya saat Frozone tiba. Tuan Incredible memerintahkan keluarganya untuk menjaga kaki tangan Underminer sementara dia dan Frozone mengalahkannya. Keduanya mencapai mesin Underminer, tapi dia dengan cepat kabur ke bawah tanah. Tuan Incredible dan Frozone mengejarnya. Keduanya menemukan komputer yang berisi rencana Underminer dan mengetahui bahwa dia telah menciptakan Magnomizer, berniat untuk membalik posisi kerak bumi dan mengisi langit dengan polusi ekstrim untuk membuat bawah tanah buatan. Sekarang game ini sudah dapat dimainkan pada android menggunakan emulator Dolphin.
---
INFO
Nama Game : The Incredibles: Rise of the Underminer
Status : Normal
Platfrom : WII  , Android ,  PC
Emulator : Dolphin
Genre Game :  Action  , Adventure, Beatt'em all
Publisher: THQ
Release Date: 2005
Ukuran Game : 1.2 GB (ISO)
Mode : Single-player , Multiplayer
Offline
---
---
Download Gratis The Incredibles: Rise of the Underminer ( USA )  Android
Beli di amazon :  The Incredibles: Rise of the Underminer 
Coba juga : Animal Crossing ( Gamecube ) 
LINK DOWNLOAD :
DOWNLOADINFO TEST
Handphone ( Xiaomi MI 8 )
NB : Game / Rom ini dapat kamu simpan pada Memory Card / Memory Eksternal.