Crash of The Titans : Adalah game dari series Crash Bandicot yang hadir dengan gameplay baru dan lebih action. Mengurangi porsi platformer game sampai sekitar -70%, game ini lebih mirip God of War versi Radical Entertainment daripada Crash Bandicoot buatan Naughty Dog. Ini adalah game consule keren yang ada di PS2 , Xbox 360 , WII dan PSP . karena sekarang Handphone ANDROID sudah dapat bermain game – game PSP yang otomatis kita dapat menikmati petualangan Crash melalui HP kita yang dapat di mainkan kapanpun dan dimana saja.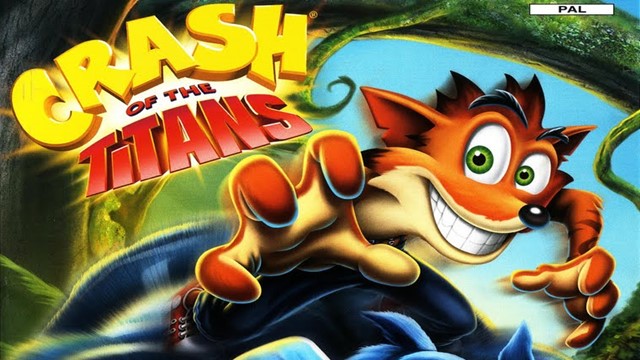 Deskripsi :
          Crash of The Titans :  Dari awal permainan, Crash Bandicoot menyembuhkan Coco dengan alat daur ulang. Tiba – tiba dengan kedatangan Dr.Neo Cortex, Dia menangkap Coco ,Aku Aku dan membekukan Crunch. Lalu Crash melemparkan mesin Coco hingga mengenai Kapalnya Dr.Neo, hingga mengenai kurungan Aku Aku, yang menyebabkan kurungan tersebut terjatuh di dekat hutan. Setelah Crash menyelamatkan Aku Aku, setelah mereka mengetahui bahwa Cortex dan Uka Uka mencuri Mojo di kuil terdekat dan berusaha menghentikan mereka. Ketika sesampainya di kuil, Cortex memberitahukan niat buruk nya untuk membuat pasukan Mutan menggunakan Mojo tersebut, yang dimana di gunakan untuk membuat sebuah robot yang yang disebut the Doominator, Mereka akan menghancurkan Pulau Wumpa dan menguasai dunia……
Ada sebuah zat yang baru ditemukan di Wumpa Island yang bernama Mojo. Mojo ini bisa meningkatkan kekuatan hewan penghuni Australia Selatan dengan sihir hitam. Jadi Crash bakal terus ngumpulin Mojo supaya bisa upgrade serangan-serangannya. untuk buah Wumpa masih ada, tapi gunanya buat ngisi Hitpoint Crash.
Serunya gameplay dari game ini ,ketika musuh yang kalian lawan sudah Pening ( Pusing ), kalian dapat mengontrol makhluk tersebut dimana Crash akan menancapkan ( hijjack ) Aku Aku ke wajah monster tersebut , kalian hanya bisa mengendalikan monster yang sudah pening saja.
Masing – masing monster / mutan tersebut mempunyai Skill / Ability nya masing – masing yang dapat kalian upgrade nantinya.
---
Info : 
Nama Game : Crash of The Titans
Status : Normal
Emulator : PPSSPP
Genre Game :Action,Fighting,Anime
Developer : Radical Entertainment
Publisher: Vivendi Games
Release Date: 23 Novermber 2007
Ukuran Game : 546MB (ISO)
Mode : Single-player – Multiplayer ( Ad-hoc )
Offline
---
Screenshoot :


Spesifikasi Yang Dibutuhkan :
Minimal :
• OS: 4.1 Jelly Bean Up +
• Processor: Quad Core Snapdragon 400
• Memory: 1GB
• GPU : Mali 400MP / ADRENO 305
• Seperti HP : XIAOMI REDMI 1S
Rekomendasi :
• OS: 5.0 Lolipop Up
• Processor: Octa Core 64Bit Snapdragon 650
• Memory: 2/3 GB RAM
• GPU: Adreno 510
• Seperti HP : Xiaomi Note 3 Pro
---
Kumpulan Review Game-Game PSP di Android
---
Download Gratis Crash of The Titans  ( Europa ) Android
⇒Google Drive :
Crash of The Titans (E) ( ISO ) 
⇒Mega :
Crash of The Titans (E) ( ISO ) 
Password : www.mcdevilstar.com
Save Data Crash of The Titans
Unlock All ,100% Tamat, dll
---
---
CARA PEMASANGAN GAME :
1. Download file game di atas.
3. Masuk PPSSPP.
4. Cari folder diaman kalian simpan file di atas.
5. Buka game.
6. Play & Enjoy
CARA PEMASANGAN SAVE DATA :
Download file di atas dan Ekstrak.
Pindahkan folder save data yang sudah di ekstrak ke Folder PSP – SAVEDATA-disini
Buka Game dan load save seperti biasa.
Play & Enjoy
---
Untuk cara melewati download.
 VIDEO TUTORIAL CARA DOWNLOAD DI SITUS INI
 1. Setelah menekan link download.
 2. Selanjutnya tunggu 5 detik lalu tekan Skip ad / Lewati.
 3. Tekan Lewati berulang - ulang sampai masuk ke link download.