Crash : Tag Team Racing:  Pemain mengendalikan Crash Bandicoot, yang harus mengambil Permata Kekuatan Hitam dari Ebenezer Von Clutch, bersama dengan Permata Permata yang hilang di masing-masing dari lima area bertema taman. Pemain akan berkompetisi dalam balapan dan permainan mini untuk mendapatkan Koin Wumpa, mata uang taman, dan Power Crystals, menemukan Power Gem yang dibutuhkan untuk membuka lima area taman, dan akhirnya mengungkap misteri identitas pencuri Power Gem.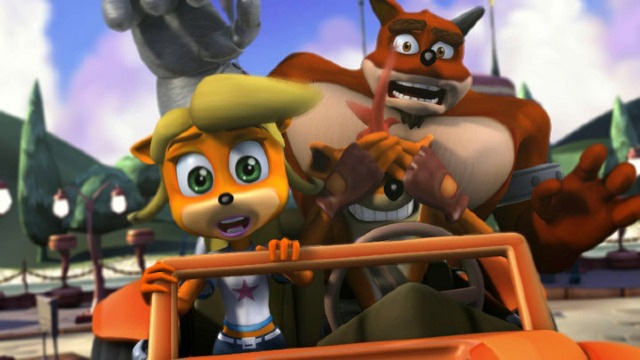 Deskripsi :
Crash : Tag Team Racing :  Saat pemain menjelajahi taman, gerbang platform dapat dimasukkan untuk membuka platform baru, Koin Wumpa Ekstra dan Kristal Kristal dapat diperoleh dengan bermain platforming, semuanya melibatkan platforming Karakter dengan ikon di atas kepala mereka dapat berbicara dengan, untuk membuka kunci mobil, peningkatan senjata, pakaian, atau untuk bermain mini game.]Pemain dapat menghancurkan peti dan mengumpulkan Koin Wumpa untuk membeli hadiah seperti pakaian baru; minum Wumpa Whip memberi pemain pengganda koin sementara yang menghasilkan uang ekstra dari Wumpa Coins dan krat.  Collecting Power Crystals diperlukan untuk membuka Power Gem di akhir area bertema, yang membuka area tambahan di taman hiburan. Kartun mini, yang disebut "Die-O-Ramas", juga dapat dibuka; cutscene ini menampilkan Crash "terbunuh" dalam berbagai (atau terluka), dan sebagian besar cara lucu. Membuka kunci semua 34 Die-O-Ramas membuka kostum lain untuk Crash.  Die-O-Ramas dapat dilihat kapan saja di bawah bagian Extras di menu utama.
Credit Deskripsi : Wikipedia
Game ini sangat lancar dimainkan di Handphone kalian.
---
Info : 
---
Screenshoot :





---
Download Gratis Crash : Tag Team Racing ( USA )  Android
Coba juga : Crash of The Titans ( PPSSPP )
LINK DOWNLOAD :
NB : Game / Rom ini dapat kamu simpan pada Memory Card / Memory Eksternal.
Tutorial Lengkap Cara Download di WWW.MCDEVILSTAR.COM
---
Tutorial lengkap tentang PSP di ANDROID bisa tonton video di bawah ini :
---
Video Gameplay