The 3rd Birthday :  Adalah permainan TPS yang dikembangkan bersama oleh Square Enix dan HexaDrive, dan diterbitkan oleh Square Enix untuk PlayStation Portable. Game ini dirilis di Jepang pada tahun 2010 dan di Amerika Utara dan Eropa pada tahun 2011. Permainan ini adalah entri ketiga dalam seri video game Parasite Eve, berdasarkan novel Jepang tituler, dan spin-off, yang hanya memiliki koneksi longgar ke acara dari pertandingan sebelumnya. Gim ini memiliki sistem tempur penembak berbasis orang ketiga dengan mekanisme permainan peran. Mekanik utama adalah kemampuan Overdive, yang memungkinkan pemain untuk memiliki sekutu manusia yang diposisikan sebelumnya dan memberikan kerusakan pada musuh.
Yang sekarang dapat kalian mainkan di handphone android .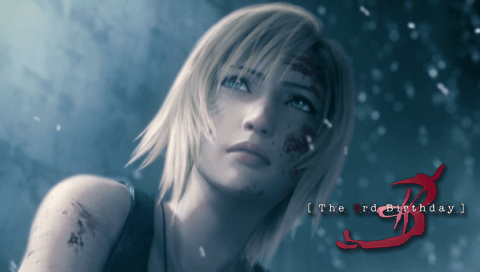 Deskripsi :
The 3rd Birthday :  Pemain mengontrol seri protagonis Aya Brea melalui lingkungan yang diberikan kepada skala dari perspektif orang ketiga. Gim ini dimainkan sebagai serangkaian misi, di mana Aya berada di markas Counter Twisted Investigation, yang bertindak sebagai pusat utama gim. Di hub, Aya dapat menerima pengarahan untuk misi, melihat dokumen tambahan, membeli dan menyesuaikan senjata baru. Dia juga memiliki pilihan untuk mengangkut kembali ke sana jika dia mati selama misi. Gim ini dapat disimpan di hub dan di zona aman dalam misi.  Di akhir setiap misi, Aya diberi nilai berdasarkan kinerja, musuh terbunuh, dan berapa kali dia meninggal. Bergantung pada skornya, dia akan mendapatkan jumlah Poin Bounty yang berbeda, mata uang yang digunakan untuk menyesuaikan senjata dan memperbaiki alat pelindung di area hub.
Credit Deskripsi : Wikipedia
Game ini sangat lancar dimainkan di Handphone kalian.
---
Info : 
---
Screenshoot :





---
Download Gratis The 3rd Birthday ( USA )  Android
Coba juga : Marvel : Ultimate Alliance ( PPSSPP )
LINK DOWNLOAD :
Tested : Xiaomi MI 8
NB : Game / Rom ini dapat kamu simpan pada Memory Card / Memory Eksternal.
Tutorial Lengkap Cara Download di WWW.MCDEVILSTAR.COM
---
Tutorial lengkap tentang PSP di ANDROID bisa tonton video di bawah ini :
---
Video Gameplay