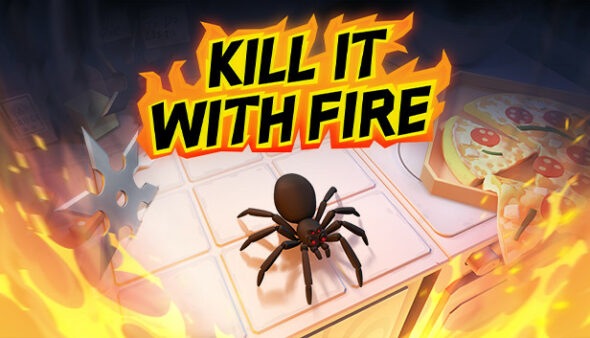 Deskripsi :
Kill It With Fire Mod : Merupakan sebuah permainan First Person Action yang bertujuan untuk memburu para Laba – Laba di penjuru daerah. Game yang barus saja rilis di bulan agustus 2020 ini merupakan besutan dari Tinybuild selaku Publisher dari game yang sudah tidak asing lagi yaitu Hello Neighbor. Membuat laba-laba menjadi musuh utama kalian, setiap laba – laba harus segera di musnahkan menggunakan berbagai macam senjata seperti, Hairspray, Shotgun , Handgun, Dynamite, dan senjata mematikan lainnya yang bisa kalian dapatkan di setiap level yang disuguhkannya. Game ini memiliki 8 spesies laba-laba yang berbeda, seperti laba-laba yang bisa mengularkan anak ataupun sebuah laba – laba yang sangat pintar besembunyi.
Kalian harus jeli untuk meilhat mereka bersembunyi di balik tempat ataupun barang yang kalian lalui, jika kesulitan kalian dapat menggunakan alat pelacak laba-laba, akan tetapi alat tersebut memiliki daya yang harus di isi dengan baterai, membuat kalian harus mencari baterai tersebut juga. Dengan grafis dan suara efek yang memukau, membuat game ini sangat patut untuk dimainkan sekarang juga. Jadi tunggu apalagi? download Kill It With Fire ( Free ) untuk dimainkan pada PC atau Laptop, high maupun potato dimanapun dan kapanpun secara offline.
---
INFOINFO MOD
Nama Game :  Kill It With Fire

Harga Playstore : (- )
Status : MOD
Platfrom : Android
Genre Game : Puzzle, Indie, Shooter, Simulation
Publisher: tinyBuild
Ukuran Game : 609MB ( RAR )
Mode : Solo  ( OFFLINE  )
Full Version / Ultimate Pack Terbuka.
---
---
Download Gratis Kill It With Fire ANDROID :
Playstore Link :
Coba juga : Among Us ( 3 Versi Mod ) v.2021.3.5Android
LINK DOWNLOAD  :
Whats NewMinimal OSSupport Gamepad?
Android 5.0+
Tidak Support